Give the Gift of Art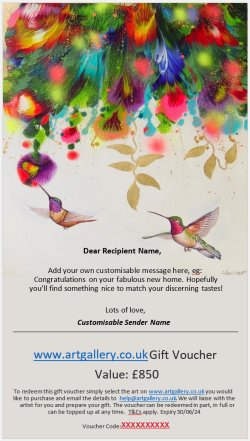 Art gift vouchers can be a great way to give the gift of original art to friends, family, and colleagues.
With so many options to choose from on ArtGallery.co.uk, recipients of the gift voucher will have a wide range of artworks to choose from, ensuring that they can find something that they truly love and appreciate. Additionally, giving a gift voucher allows the recipient to choose their own artwork, so you don't have to worry about picking something that they may not like. This can make the gift-giving experience more enjoyable and stress-free for both the giver and the receiver.
How to buy
To purchase an art gift voucher on ArtGallery.co.uk, follow these steps:
Click on the button below.
Enter the amount of the voucher, proceed to checkout and pay for it using your preferred method of payment.
After your payment has been processed, you will receive an email containing your voucher code.
If you wish we can create a beautiful unique voucher using Art from our Gallery which we will email along with the voucher code.
Forward the email containing the voucher code to the recipient of the gift, or print it out and give it to them in person.
The recipient can then redeem the voucher code on the ArtGallery.co.uk website.
It's as simple as that! With an art gift voucher from ArtGallery.co.uk, you can easily give the gift of original art to someone special in your life.
Purchase a Gift Voucher
Good to know:
Vouchers are valid for an entire year.
Vouchers cannot be exchanged for cash.
In most cases Delivery is free on all original artwork when delivered with anywhere within the UK.